Discover more from PulmCCM
Life, death and the ICU
Over 39,000 subscribers
LABA safety studies for asthma saw no increased risk in Advair or Symbicort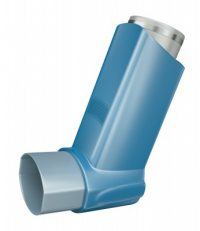 After the Serevent Nationwide Surveillance (SNS) and SMART trials both appeared to link the use of long-acting beta agonists (LABAs) to an increased risk of asthma-related death, routine asthma care got scary. The FDA slapped a black box warning on LABAs like Serevent (salmeterol) and Foradil (formoterol) and also the combination treatments containing them (Advair, Symbicort, Dulera). FDA also "requested" all pharma companies selling LABAs conduct serious postmarketing safety studies, the kind that take years and many millions of dollars. Those results are now being published, and they support what physicians and people with asthma have long believed: combination LABA-inhaled corticosteroid inhalers (LABA/ICS) are safe and effective treatments for people with asthma uncontrolled by inhaled steroids alone.
Advair Looked Safe in AUSTRI
In the GSK-funded AUSTRI randomized trial, adults and adolescents taking Advair (the LABA salmeterol and the steroid fluticasone) had a 1.03 hazard ratio for a serious asthma-related event compared to fluticasone alone. They had a relative drop in asthma exacerbations by 21%, and an absolute drop of 2%. With a number needed to treat with LABA/ICS of 50 to prevent one asthma exacerbation over ICS alone, that's hardly a ringing endorsement of the combination products for efficacy. But with >11,000 subjects, the safety results were reassuring.
Symbicort: No Excess Risk Seen
Adult and adolescent patients with asthma treated with Symbicort (the LABA formoterol plus budesonide) also had no greater risk for serious asthma-related events than patients taking budesonide monotherapy, in a 6-month multicenter trial enrolling >11,000 patients and funded by AstraZeneca. Patients were over age 12 and all had at least one asthma exacerbation in the past year; patients with history of life-threatening asthma exacerbations were excluded, as in the AUSTRI study. Serious asthma-related events occurred in only about 40 patients in each group. The risk of having an asthma exacerbation while taking Symbicort was a relative 16.5% lower than in patients taking budesonide alone. There were two asthma related deaths in the LABA-budesonide group, and none in the budesonide-only group, but this was not considered statistically significant. One of the deaths was reportedly in a 68-year-old woman who died 8 weeks after suffering cardiac arrest for which she required hospitalization with mechanical ventilation. The other death was reportedly in a 22-year-old woman, who died from acute respiratory failure.
Other LABA Safety Trials Ongoing
The Advair and Symbicort trials are two of four large LABA safety trials enrolling 46,800 patients total. The trials on Dulera (mometasone and formoterol), and Foradil (formoterol and fluticasone inhalers tested vs fluticasone alone) are still in progress. All the trials have a similar design: treated for six months with a composite primary endpoint of asthma-related death, intubation, or hospitalization. All enrolled patients had moderate to severe asthma, but patients with a history of life-threatening asthma were excluded. This along with the 6-month follow up period have led some to wonder if the LABA safety trials will put to rest the question of any risks of LABAs in treating asthma. "For the vast majority of patients, adding a LABA will have a significant additive effect if an inhaled steroid is not providing control," one expert told MedPage Today in an interview. "But it is important to start with the steroid alone to determine if adding a LABA makes patients better, as it usually does, or makes patients worse." The LABA safety data does not change the basic principles of asthma treatment for physicians and patients. Inhaled corticosteroids are the advised first-line therapy for almost all patients with persistent asthma. Long-acting beta agonists should not be prescribed as monotherapy for asthma. Read more: Serious Asthma Events with Fluticasone plus Salmeterol versus Fluticasone Alone. N Engl J Med. 2016 May 12;374(19):1822-30. Safety of Adding Salmeterol to Fluticasone Propionate in Children with Asthma. N Engl J Med 2016; 375:840-849. FDA Drug Safety Communication: FDA requires post-market safety trials for Long-Acting Beta-Agonists (LABAs)