Discover more from PulmCCM
Life, death and the ICU
Over 39,000 subscribers
Angiotensin II, a new vasopressor for septic shock, coming soon (probably)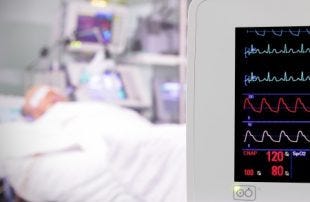 Physicians may soon have another vasopressor to add to their toolkit in treating patients with septic shock and other vasodilatory shock. Angiotensin II infusions improved blood pressure in critically ill patients with vasodilatory shock who remained hypotensive on high doses of conventional vasopressors, in the phase III ATHOS-3 trial.
Patients with hypotension despite catecholamine infusions (norepinehrine, epinephrine) who were treated with angiotensin II (called LJPC-501 by its maker) had three times the likelihood of achieving an acceptable blood pressure after three hours, compared to patients receiving placebo.  Those receiving LJPC-501 also required lower doses of other vasopressors.
The results were reported at the annual American Thoracic Society meeting, and published in the New England Journal of Medicine. The study was funded by the drug maker, whose chief medical officer was a co-investigator.
Angiotensin II targets the renin-angiotensin-aldosterone system (RAAS), a powerful mediator of arterial blood pressure. Angiotensin II blockers are widely prescribed to reduce high blood pressure. The feasibility of infusion of angiotensin II for hypotension with shock was demonstrated in a recent pilot study.
ATHOS-3 randomized 321 patients with vasodilatory shock (80% in septic shock) to receive either angiotensin II or placebo. Enrolled patients had shock despite receiving more than 0.2 μg/kg/min of norepinephrine or another vasopressor in a similar dose.
About 70% of patients receiving angiotensin II for three hours achieved a mean arterial pressure of 75 mm Hg, or an increase of at least 10 mm Hg, without an increase in their other vasopressors. Only 23% of patients receiving placebo (and their other vasopressors) achieved this primary endpoint. Angiotensin II patients also had improved (lower) cardiovascular Sequential Organ Failure Assessment (SOFA) scores (-1.75 vs -1.28, P=0.01) and required lower overall doses of catecholamine vasopressors. There was no improvement observed in overall organ function (total SOFA scores) with angiotensin II. After 28 days, mortality was 46% in the angiotensin II group and 54% in the placebo group (hazard ratio 0.78 with a confidence interval just barely crossing 1). There was no increase in adverse events among patients receiving angiotensin II (61% vs 67%).
Lead investigator Ashish Khanna, MD told MedPage Today,
This is a new drug in our armamentarium to manage patients dying of catecholamine-resistant hypotension, while achieving a decrease in drugs like norephinephine and vasopressin that do more harm than good at very high doses. It can essentially buy the patient some time to fix the primary problem causing the hypotension.
La Jolla Pharmaceutical Company, makers of LJPC-501 (no trade name yet), announced the FDA has begun reviewing their fast-track application for approval of angiotensin II. The proposed indications are septic shock and other vasodilatory shock despite provision of fluids and other vasopressors. Analysts expect FDA approval and availability of angiotensin II in 2018. A price of $5,000-8,000 and annual sales of $500 million to $1.5 billion are forecasted for angiotensin II. La Jolla's stock price rose 16% after initial results were reported. Read more: Angiotensin II for the Treatment of Vasodilatory Shock. N Engl J Med 2017; 377:419-430.