Discover more from PulmCCM
Life, death and the ICU
Over 39,000 subscribers
Big Tobacco win: Feds to take breather in fight for scary cigarette labeling
Feds to Big Tobacco on Cigarette Labeling Fight: "Uncle!"
The feds are admitting defeat for now in their fight for graphic, negative imagery to be displayed on all cigarette packaging and advertisements.
Attorney General Eric Holder announced yesterday that the Justice Department will not ask the Supreme Court to reverse their loss in a federal appeals court last August, in which the judges ruled 2-1 that the government's proposed rules on cigarette packaging (to mandate disturbing visual images and the phone number 1-800-QUIT-NOW occupy a large portion of each package and advertisement) violated the First Amendment rights of the cigarette companies.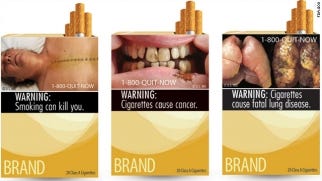 Examples of FDA's proposed cigarette packaging
Last year's appeals court ruling hinged in large part on the court's conclusion that the government could not prove the new labeling would reduce smoking or improve public health. "FDA failed to present any data -- much less the substantial evidence required under the federal law -- showing that enacting their proposed graphic warnings will accomplish the agency's stated objective of reducing smoking rates. The rule thus cannot pass muster" under past court precedent. Rather, the labels were simply "unabashed attempts to evoke emotion" and "browbeat consumers" to stop buying cigarettes, the court said.
R.J. Reynolds, Lorillard Tobacco, Commonwealth Brands, Liggett Group and Santa Fe Natural Tobacco Co originally sued FDA in 2011, claiming the government's mandates constituted "threats and fear" and violated the companies' rights to free speech.
The government argued that the images selected by FDA are fair depictions of the health risks of smoking; the companies argued that images are unnecessary as smokers are already well aware of the health consequences of smoking -- and according to survey research, often overestimate them.
Rather than risk a loss at the Supreme Court, the government's next move is for FDA to issue new regulations in an attempt to accommodate the First Amendment concerns raised by the appeals court.
"If a court of appeals were to set aside new regulations issued by FDA at a later date, there will be an opportunity to seek full Supreme Court review at that time," Mr. Holder said.