Discover more from PulmCCM
Life, death and the ICU
Over 39,000 subscribers
How to manage lung cancer when resection is high risk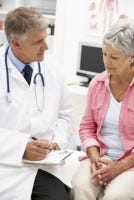 Management of Lung Cancer in High Surgical Risk Patients
We all hope that surgical resection is an option for our unfortunate patients diagnosed with lung cancer.  However, as a consequence of the epidemiology of stage I non-small cell lung cancer, the standard of care, lobectomy with systematic mediastinal lymph node evaluation, is not a treatment option for up to 25% of patients with the disease.  Alternative therapies are becoming more widely available, but there has been a lack of consistent evaluation and management implementation in practice, due to the absence of consensus guidelines on how to manage these high-risk patients. In a recent issue of Chest, a multidisciplinary task force from the Society of Thoracic Surgeons and Thoracic Oncology Network  of ACCP developed relevant population, intervention, comparison and outcome (PICO) questions and targeted searches were given to an independent evidence-based investigator and also searched in MEDLINE. The data was then compiled and, given the limited quality of the data overall, decision was made to make a consensus statement rather than clinical guidelines.
ACCP's Lung Cancer Recommendations for High-Risk Patients
Medical assessment: When all is said and done, the question practicing pulmonary specialists are asked most often, "Is this patient's risk low enough to undergo lung resection surgery?" remains a subjective clinical decision, especially as surgical techniques improve. However, here are some suggestions in the evaluation of a patient's risk preoperatively:
Both FEV1 and  DLCO accurately predict morbidity and mortality following major lung resection (though with only modest correlation) but for neither can an absolute cutoff be determined that consistently separates normal from high-risk or prohibits the procedure entirely.

Estimation of postoperative value is suggested as a means for assessing risk. The authors do note that a post-operative predicted value of less than 40% warrants significant consideration, given the likelihood of increased risk. (Brunelli et al and Colice et al)

DLCO may be most valuable as a predictor of post operative outcomes in patients with normal spirometry

If impairment is clear as demonstrated by FEV1 or DLCO, peak oxygen consumption with exercise is suggested as a means for assessing risk and in those deemed higher risk by FEV1 and DLCO, a peak oxygen consumption greater than 10 mL/kg/min may portend better tolerance of a major resection.
Sublobar resection: The only prospective randomized trial comparison of lobectomy and sublobar resection revealed an increase in regional recurrence for the latter.  However, more recent single institution series have demonstrated similar rates of regional recurrence and survival for these two surgical options. Review of the available literature lends the following conclusions: 1. Segmentectomy or extended wedge resection with adequate margins are safe and effective alternatives to lobectomy in high-risk patients. 2. These modalities may be preferred in patients greater than 75 years old, as there's been no clear survival benefit of lobectomy and no clear increased regional recurrence with the procedures resecting less tissue, in this group. 3. Anatomic segmentectomy is preferred over wedge resection because of decreased regional recurrence. 4. Intraoperative adjuvant brachytherapy is safe and reduces involved lobe recurrence.   Radiation therapy: Definitive radiation therapy has curative potential for high-risk patients with stage one non-small cell lung cancer.  The available evidence from nonrandomized trials suggest stereotactic body radiation therapy is superior to conventional fractionated radiation therapy if available.   Ablative therapies: Date is lacking on the efficacy and long-term outcomes associated with radiofrequency ablation and the efficacy of different RFA systems has not been compared. Given the reduced primary tumor control, RFA remains a reasonable treatment option for those not candidates for SBRT or sublobar resection, or those who desire a single session outpatient intervention.. Furthermore, the data is strongest for its use in peripheral lesions less than 3 cm.  

Clinical Takeaway: While we hope to continue to see improvements in localized treatment modalities, the available literature still supports lobectomy as the most effective treatment option for stage one non-small cell lung cancer in most patients. However, a curative option with localized therapies is available with decreased risk of toxicity and death  for carefully selected patients. As with most complicated situations, more data from high risk patients with uniform reporting would certainly be helpful to more clearly define which option may be right for your patient. American College of Chest Physicians and Society of Thoracic Surgeons ConsensusStatement for Evaluation and Management for High Risk Patients with Stage I Non-small Cell Lung Cancer. Chest 2012; 142(6):1620-1635.