Discover more from PulmCCM
Life, death and the ICU
Over 39,000 subscribers
Millions of adults quit smoking since 2005 (MMWR)
From 2005 to 2010, the percent of U.S. adults identifying themselves as smokers fell from 20.9% to 19.3% -- about 3 million fewer smokers than would be expected. The results come from the CDC's national telephone health surveys.
More remarkably, adults reported smoking far fewer cigarettes: The proportion of adults reporting smoking more than a pack-and-a-half (30 cigarettes) fell from 12.7% in 2005 to 8.3% in 2010.
A recent JAMA article lends historical context: In 1965, 22% of Americans smoked more than a pack a day (20 cigarettes); in 2007, 7.2% did.
Of course, this didn't count new customers (i.e., kids), in whom rates have been steady. Public health authorities blame smoking in movies and ads in teen-targeted magazines for recruiting lots of young new smokers each year. What we need IMHO is a summer blockbuster called "Ernest Gets a Tracheostomy." New cigarette warning labels coming soon, e.g.: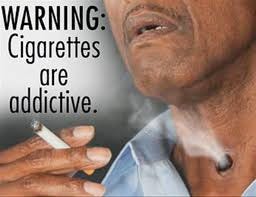 Vital Signs: Current Cigarette Smoking Among Adults Aged ≥18 Years --- United States, 2005--2010. Morbidity and Mortality Weekly Report (MMWR) September 6, 2011 / 60(Early Release);1-6.