Discover more from PulmCCM
Life, death and the ICU
Over 39,000 subscribers
Obesity may improve survival in ARDS, but with renal failure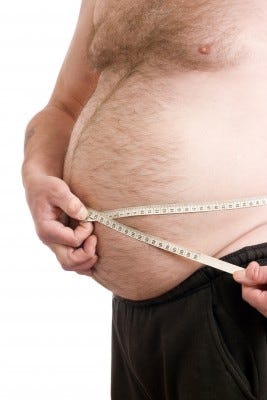 In ARDS, Obesity May Protect Life (But Not Kidneys)
Obesity is an epidemic and common in intensive care units in the United States.  Furthermore, while acute kidney injury (AKI) is also common in critically ill patients, obese patients carry additional risk for AKI because of increased baseline comorbidities. Both obesity and AKI are associated with increased ICU length of stay and costs, but their combined effects are less clear.  AKI is associated with high mortality, especially when developing in the setting of ARDS.  Meanwhile, some studies suggest lower mortality in obese critically ill patients, where there may be an increased tendency to develop ARDS.  In their recent publication, Soto et al set out to evaluate the relationship of AKI and obesity in patients with ARDS.
What They Did
This was a retrospective analysis of patients with ARDS enrolled in the Molecular Epidemiology of ARDS study.  Primary outcome was all-cause mortality.  Patients were excluded if they had end-stage renal disease on dialysis. A variety of secondary outcomes were also evaluated.
What They Found
25% of those with ARDS were obese and 8% were severely obese; obese patients had less shock and lower acuity of illness scores on admission.

About 62% developed AKI, 70% on the day of ICU admission, and increasing BMI was associated with development of AKI (p = 0.001).

AKI was associated with higher mortality (p<0.001) in each weight category, but the proportion of patients with AKI that died decreased as BMI increased.

Each 5 kg/m2 increase in BMI was associated with 19% decrease in 60 day mortality (p = 0.002).

Of note, over 90% of patients in study were white.

Underweight patients had the highest mortality, and were older with higher acute illness scores.
What It Means
Obesity and AKI are each common problems for critically ill patients, and in ARDS, and the incidence of AKI increases as BMI increases, seemingly independent of severity of illness or shock, though the mechanisms are not clearly understood (? IL-18 or leptin).  This study would suggest that while the development of  AKI in ARDS increases mortality, there may be a protective effect of increasing BMI.  However, the lack of racial diversity limits generalizability to other populations.  

Clinical Takeaway:  Increased BMI is associated with increasing incidence of acute kidney injury in ARDS in this study -- but obesity was also associated with reduced mortality. Obesity may well be protective for patients with ARDS, as has been suggested previously for critical illness in general in obese patients. In neither situation are the mechanisms well understood; more research is needed to help explain these observations. Soto, GJ et al. Body mass index and acute kidney injury in the acute respiratory distress syndrome. Crit Care Med 2012; vol 40(9):2601-08.