Discover more from PulmCCM
Life, death and the ICU
Over 39,000 subscribers
Riociguat for Pulmonary Hypertension: New Kid on the Block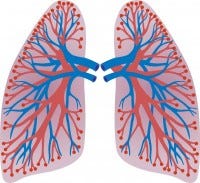 New Pulmonary Hypertension Drug Riociguat Proves Effective
Pulmonary arterial hypertension is a rare but life-threatening illness affecting around 10,000 people in the U.S., in which ongoing remodeling of the pulmonary vasculature leads to narrowed pulmonary arteries with increased pulmonary artery pressure (pulmonary hypertension), and if untreated, eventual right heart failure and death. (The overwhelming majority of people with pulmonary hypertension do not have pulmonary arterial hypertension, but a very different condition which results from "ordinary" congestive heart failure.)
Previously universally fatal, pulmonary arterial hypertension treatments have evolved rapidly and dramatically with the development of multiple drug classes that can delay or even reverse temporarily the process of arterial narrowing:
As a result, people with pulmonary arterial hypertension are surviving longer, and pulmonary hypertension drugs have become a lucrative market for pharmaceutical companies, with the leader Tracleer earning $1.5 billion in 2012. Still, as many as 15% of people with a diagnosis of pulmonary arterial hypertension die each year, and many more are disabled by breathlessness and other symptoms.
This month, Bayer announced favorable Phase 3 results in the New England Journal of Medicine for its completely novel pulmonary arterial hypertension drug, riociguat (sexy trade name TBA). If approved, riociguat would be the first of a new class of pulmonary hypertension treatments called soluble guanylate cyclase stimulators. Guanylate cyclase is the intracellular receptor for nitric oxide, which has vasodilatory and anti-proliferative effects on blood vessels, including the pulmonary arteries. Because pulmonary arterial hypertension is often treated with drugs from multiple mechanistic classes working together, a mechanistically new agent could provide new therapeutic opportunities for doctors and people living with PAH.
What They Did
Authors including Hossein-Ardeschir Ghofrani et al randomized 443 patients with pulmonary arterial hypertension (mostly idiopathic PAH or Group I, WHO functional class II-III) in 30 countries to receive riociguat t.i.d. or placebo for 3 months. Patients could be either treatment-naive or receiving endothelin-receptor antagonists (bosentan/Tracleer, etc) or non-intravenous prostanoids like iloprost (Ventavis), but not phosphodiesterase-5 inhibitors like sildenafil (Revatio).
The primary end point was 6-minute walk distance. Numerous PAH secondary outcomes included hemodynamic measurements, dyspnea, WHO functional class, and quality of life.
The statistician was employed by the sponsor, Bayer HealthCare, and a medical writing company edited the final manuscript.
What They Found
Riociguat improved exercise tolerance in people with pulmonary arterial hypertension compared to placebo: +36 meters over a baseline 363 meter 6-minute walk distance in the riociguat group vs. -6 meters with placebo, at 3 months. Those with worse PAH (WHO class III-IV) had greater improvements in 6-minute walk distance.
Riociguat also improved hemodynamic parameters and secondary outcomes in pulmonary arterial hypertension:
Riociguat decreased pulmonary vascular resistance by 223 dynes-sec-cm-5 at its maximum dose, compared to 9 dynes-sec-cm-5 in the placebo group.

The riociguat group had significant improvements in WHO functional class, subjective dyspnea, and NT-pro-BNP levels.
Most patients continued riociguat treatment under the follow-up PATENT-2 study, and after another 4 months had further improvements in 6-minute walk distance, with an average total improvement of 53 meters.
Patients taking endothelin-receptor antagonists or prostanoids experienced roughly equal improvements in 6-minute walk distance as treatment-naive patients. The small subgroup already taking prostanoids had a greater response to riociguat.
Riociguat appeared safe: There were no excess adverse events or withdrawals due to adverse effects in the riociguat group, compared to placebo.
Right ventricle parameters -- a key determinant of both functional status and survival in people with pulmonary arterial hypertension -- were not measured as part of the trial protocol.
What It Means
Bayer's new pulmonary arterial hypertension drug riociguat made a good showing in this Phase 3 clinical trial among people with idiopathic pulmonary arterial hypertension. The modest benefits seen among treatment-naive patients (comparable but no better than those of previously approved pulmonary hypertension treatments) and good safety profile will probably earn riociguat regulatory approval in the U.S. and Europe, but won't establish riociguat as superior to existing pulmonary hypertension treatments.
Riociguat's novel mechanism of action may make it appealing to physicians as an add-on therapy to patients already receiving pulmonary hypertension therapies, especially since riociguat provided incremental benefit to those already receiving endothelin-receptor antagonists or prostanoids. The subgroup finding that those already taking prostanoids had a stronger response to riociguat might be due to chance, but is interesting and deserving of future study.
The 6-minute walk distance has been maligned as an end point that doesn't correspond with real-world clinical outcomes, but ever since it provided the basis for FDA approval of the original PAH drug Flolan, 6-minute walk distance has become the standard metric of success in trials of pulmonary arterial hypertension treatments. Riociguat is predicted to bring in almost $700 million yearly for Bayer by 2014.
Hossein-Ardeschir Ghofrani et al. Riociguat for the Treatment of Pulmonary Arterial Hypertension (PATENT-1). N Engl J Med 2013; 369:330-340.