Discover more from PulmCCM
Life, death and the ICU
Over 39,000 subscribers
Staph vaccine fails in cardiothoracic surgery patients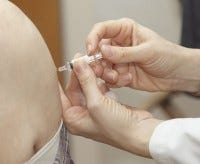 Staph Vaccine Fails in Cardiothoracic Surgery Patients
Staphyloccocus aureus wound infections and bacteremia commonly complicate cardiothoracic surgery, even with meticulous attention to infection prevention. Staph mediastinitis, a deep infection of the surgical wound, is particularly feared and lethal.
Vance Fowler et al randomized 8,031 people undergoing sternotomy to receive the V710 vaccine against S. aureus, or placebo. The study was stopped at an interim analysis, because it wasn't preventing staph infections, and seemed to be worsening them (more patients receiving vaccine died from staph infections than those receiving placebo). The study was a disappointment for Merck, creators of the previously promising V710 vaccine, which did protect against S. aureus infection in animal studies.
It's not the first time staphylococcus has confounded vaccine makers: Ten years ago, a different preparation of a staph vaccine (StaphVAX) initially seemed protective in end-stage renal disease patients, but was later shown to be ineffective in a Phase III trial, and it was discontinued by the manufacturer.
Vance Fowler et al. JAMA. 2013;309(13):1368-1378.