Discover more from PulmCCM
Life, death and the ICU
Over 39,000 subscribers
Talking to COPD patients about end-of-life makes them like you more?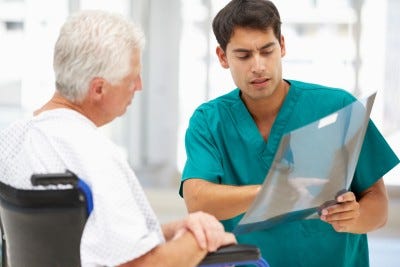 We may see it more often, but we doctors don't really know anything more about death than anyone else, and we find it just as scary. Yet we are expected to spontaneously discuss death-as-a-coming-event with seriously ill patients who (we assume) probably want to avoid the subject, well, like the plague.
Maybe they do. But a new study by Janice Leung, Edmunds Udris, David Au, and James Uman in the July 2012 Chest suggests that if you are brave enough to discuss end-of-life issues in clinic with your COPD patients, they will feel well-cared for and believe you're a better doctor. And, of course, they'd be right.
What They Did
This was a spin-off from a randomized trial by the same authors who enrolled 376 patients with COPD to test an intervention (giving the results of a patient-completed questionnaire on end-of-life preferences to their physicians) to improve end-of-life counseling; those results were reported here in Chest (spoiler alert: it worked).
That study showed that a questionnaire increased the rates of end-of-life counseling. Here, authors simply report on the 15% of that study's patients who reported already having had an end-of-life discussion with their clinic doctors at baseline entry to the trial, and what other factors might be associated with having had that discussion.
Most of the patients (278 out of 376, or 74%) had GOLD II-III disease (FEV1 of 30%-80% predicted); about 10% had FEV1 < 30% predicted. They were recruited from the clinics at U. of Washington-associated VA medical center in Puget Sound.
What They Found
Only 55 of the 376 COPD patients (15%) reported having had an end-of-life conversation with their physician. Patients with more-severe COPD by FEV1 were no more likely to have had an end-of-life discussion than those with mild COPD, but those with higher dyspnea scores (SGRQ) were more likely to report an end-of-life discussion.
However, the COPD patients who had had end-of-life discussions with their doctors were twice as likely to rate their care as the "best imaginable" and to be "very satisfied with their medical care" (both odds ratios ~2).
What It Means
Before swallowing these results whole, consider that a pre-existing good doctor-patient relationship may be an unmeasured confounder here. The interpersonal rapport between doctor and patient may play a big role in whether these discussions are ever broached. Meaning that when a physician and her patient already like each other and have a strong bond, the physician may be more likely to bring up an end-of-life discussion. If this were the case, of course these patients would rate the physicians and their care highly (regardless of whether the physician had ever brought up end-of-life care). Authors controlled for clustering by provider–making sure that physicians who counsel end-of-life issues on every patient, or none, didn't skew the results, for example–but it would probably be impossible to control for these individual interpersonal dynamics.
That being said, this study essentially proves that on this issue, physicians have nothing to fear but fear itself (their own): starting end-of-life discussions with COPD patients clearly doesn't make them like their doctors less, feel abandoned, or that their care is poor. If anything, just the opposite is true.
Other studies have consistently shown that physicians are reluctant to start end-of-life talks with COPD patients in clinic. It's often an awkward and time-consuming process, and if we do it at all, it's usually after COPD has progressed to a very advanced phase. We may not feel we know how to do it (if there is a "right way"); these authors' randomized trial in these same patients used a patient-completed questionnaire to provide the basis for end of life talks, and resulted in a tripling of the rate of discussions (to 30%).
Clinical Takeaway: Patients with COPD may dread end-of-life discussions and find them as awkward as we do, but they seem glad to have had them, and they're the right thing to do for our patients. If end-of-life discussions are to become part of standard care, though, some type of systematization will have to be hard-wired into the clinic visit for COPD patients–something like the feedback form tested in these authors' earlier randomized trial. Leaving this up to physicians' human nature will result in the same counseling rates we've seen here and previously, no matter how many papers are published–because (speaking personally) there's always a convenient excuse to put off these uncomfortable discussions "until next time."