Discover more from PulmCCM
Life, death and the ICU
Over 39,000 subscribers
Tracheostomy in COVID-19: Who, When, How?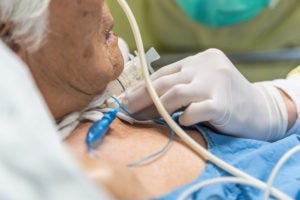 Tracheostomy in COVID-19: Many opportunities, limited evidence
By Andrew DeMaio, M.D. and David Feller-Kopman, M.D.
Let's start with a case – one that unfortunately we have seen way too frequently over the past few months. A 61-year-old man with ESRD on hemodialysis and prior pulmonary embolism was admitted to the ICU for ARDS due to COVID-19. He was intubated and mechanically ventilated with an initial P/F ratio of 110. He required proning and neuromuscular blockade, although his gas exchange has improved over the past few days. He requires moderate ventilator support with FiO2 of 50% and PEEP 12 cmH2O. He is on a heparin infusion and no vasopressors. It is day 12 of mechanical ventilation and the intensivist consults your team regarding the risks and benefits of tracheostomy. What do you recommend?
Background
Over the past several months, hospitals around the world have seen an unprecedented number of patients with respiratory failure due to COVID-19. Current studies suggest that 10-15% of patients hospitalized with COVID-19 require invasive mechanical ventilation (1-3), frequently for prolonged periods. In fact, a recent report from New York City noted that a significant proportion of patients required mechanical ventilation for more than 21 days (4). Before the pandemic, patients would generally be considered for tracheostomy after at least 10 days of mechanical ventilation (5), although COVID-19 introduces several complicating factors. Namely, could earlier tracheostomy free up resources at a time when ICU capacity is already stretched to the brink? Or should the risk of viral transmission delay tracheostomy until patients are presumably less infectious, and assume an increased risk of complications from prolonged trans-laryngeal intubation? Let's take a quick look into each side of the story…
For tracheostomy
Several benefits of tracheostomy are well-established in critical care, including the ability to decrease sedation (6), improve secretion clearance and promote early mobility (7). Other potential advantages of tracheostomy are more controversial. For example, several studies suggest a decreased incidence of ventilator-associated pneumonia (8) and duration of mechanical ventilation (9) while others contradict these results. Additionally, one study even suggested a mortality benefit to early tracheostomy (10), although this was not replicated in the subsequent TracMan trial (11). Nevertheless, a fair amount of evidence highlights the potential advantages of tracheostomy. In addition to benefits in the general critically ill population, tracheostomy may incur incremental benefit in specialized populations, including those with traumatic brain injury and multi-system trauma due to their likelihood of requiring prolonged mechanical ventilation (12).  Could patients with COVID-19 gain similar benefits due to a high incidence of prolonged respiratory failure, high sedation requirements and prolonged delirium / neuro-cognitive ramifications? Many institutions have recommended a conservative extubation strategy due to a high rate of re-intubation and the associated risk of viral spread. This may further stress a limited pool of intensive care resources, including mechanical ventilators and sedative drugs. In this setting, performance of tracheostomy in appropriate candidates has the potential to free up resources across a health system. This may or may not play a role in the decision based on local factors.
Against tracheostomy
First and foremost, performance of tracheostomy puts healthcare workers at risk of SARS-CoV-2 infection because tracheostomy is an aerosol-generating procedure. In fact, a systematic review assessing infection among healthcare workers during the "original" SARS-CoV epidemic, tracheostomy increased the risk of viral transmission with an odds ratio of 4.2, second only in magnitude to endotracheal intubation (odds ratio 6.6) (13). Even if the procedure is performed proficiently with appropriate personal protective equipment (PPE) some risk remains, as contamination often occurs during doffing of PPE (14). Additionally, tracheostomy is only likely to benefit those who survive critical illness. It is difficult to predict which patients with COVID-19 associated respiratory failure will require prolonged (>14-21 days) mechanical ventilation. Thus, guidelines have recommended delaying tracheostomy until the patient is clinically improving (15). Finally, tracheostomy is associated with several potential complications (16). Most notably, bleeding related to the procedure can be magnified in a population with coagulopathy induced by COVID-19 (17). Additionally, many patients are receiving anticoagulation for various indications including venous thromboembolism (as in our patient) or extracorporeal membrane oxygenation (ECMO). Complications related to tracheostomy may be increased in these populations (18, 19).
Location and techniques
Tracheostomy can be performed using either open surgical (ST) or percutaneous dilational (PDT) techniques. Evidence to definitively support one type over the other is lacking, and prior to the pandemic showed a similar incidence of overall complications between ST and PDT (20). Further, several novel modifications to open (21) and percutaneous (22, 23) tracheostomy have been proposed to reduce viral aerosolization and improve safety. Local expertise should determine which approach is used. If resources allow, tracheostomy should be performed at the bedside in a negative-pressure room in the ICU. Alternatively, ST can be performed in an operative room (with attendant risk of exposure related to patient transport). Limiting the number of people in the room, and enhanced PPE (powered air-purifying respirators (PAPR)) are recommended, if available (24). PPE seems to work – several groups have reported their experience with COVID-19 tracheostomy without any reported transmission to healthcare workers (22, 25).
Resolution
As this patient was expected to require continued mechanical ventilation, he underwent PDT in a negative-pressure intensive care room without complication. Anticoagulation was held peri-procedurally as his thromboembolic event was remote. Afterwards, his sedative requirement decreased and his encephalopathy gradually improved. He was transferred to an LTACH for ventilator liberation and rehabilitation.
Commentary
Admittedly, this is a fairly straightforward case but it is useful to highlight the relevant decision points. While some may prefer to wait longer to allow for decreased viral loads, the timing seems appropriate and is consistent with practices prior to COVID-19. At the time of this post, several groups have released statements or guidelines related to tracheostomy in COVID-19 including an international expert panel (15), CHEST / AABIP / AIPPD (24), and American Academy of Otolaryngology and Head and Neck Surgery (26), among others. If you have a minute, please take a look through the formal recommendations to cover the points we may not have touched on here.
References