Discover more from PulmCCM
Life, death and the ICU
Over 39,000 subscribers
Vitamin C didn't improve septic shock in VITAMINS trial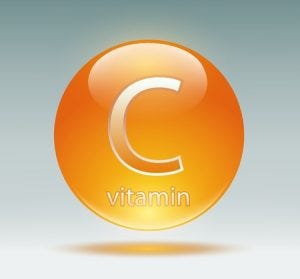 A new randomized trial showed no benefit from intravenous vitamin C in patients with sepsis, but delays in treatment baked into the trial design will keep hope alive for true believers in the novel therapy. Vitamin C, hydrocortisone, and thiamine have been promoted as a lifesaving adjunctive therapy for septic shock, based on anecdotal data (published as a non-randomized, retrospective case/control study) at a single institution. Controversy ensued; randomized trials were hastily devised. The first published randomized trial (CITRIS-ALI) showed no improvement in organ function among patients with sepsis and ARDS treated with vitamin C -- but incidentally also showed a large mortality benefit with vitamin C, which the authors viewed skeptically as a likely statistical accident. Now we have results from the VITAMINS trial. Authors randomized 216 patients with septic shock at 10 ICUs in Australia, New Zealand, and Brazil to receive either intravenous vitamin C, hydrocortisone, and thiamine (the so-called Marik protocol), or IV hydrocortisone alone, until shock resolved or 10 days had passed. Study assignments were not blinded. After 7 days, there was no difference in time-alive-and-off-vasopressors, the primary outcome (122.1 hours with vitamin C, and 124.6 hours among controls). Patients receiving vitamin C did have greater improvement in organ function (a one-point difference in change in SOFA score), which was statistically significant. There were 9 other prespecified secondary outcomes that were all negative (28- and 90- day mortality, days free of ventilators, dialysis, etc.) Patients did not receive their first dose of vitamin C until a median of 12 hours after enrollment, which in turn could be 24 hours after the recognition of septic shock. In CITRIS-ALI, patients received their first vitamin C dose "within 6 hours of randomization or at earliest available times after clinically indicated procedures (eg, imaging) requiring patients to be out of the ICU."
VITAMINS: Better Never than Late?
The VITAMINS trial casts significant doubt on the benefits of vitamin C in sepsis. But the trial falls short of proving that vitamin C does not improve sepsis outcomes:
Patients could be enrolled up to 24 hours after developing septic shock. In half the patients, vitamin C was not provided for more than 12 hours after that. This is in an era when expert committees agitate for bundles of sepsis treatments to be given within one hour of arrival in the emergency department. The late administration of vitamin C would conceivably reduce its efficacy.

Despite the delayed dosing, organ function was significantly improved among patients receiving vitamin C.
As an aside, why would enrollment for any sepsis trial today take place primarily in ICUs, and not also the emergency department? This choice necessarily interposes hours of delay from the presentation with sepsis in the ED, to ICU admission, to eventual enrollment and receipt of study drug, reducing confidence in a negative trial outcome. In VITAMINS, this may have been owing to the urgency of the trial and the complexities of interdepartmental cooperation ("silo-ing" and turf issues) at academic centers, which would be understandable but unfortunate. The major sepsis trials debunking early goal-directed therapy recognized this issue, enrolling in EDs (but didn't publish their final results until 16 years after the initial EGDT trial).
Vitamin C vs. Sepsis: The score is ...
CITRIS-ALI: No reduction in organ failure with vitamin C, but a mortality benefit the trial wasn't powered to verify as being real;
VITAMINS: A significant reduction in organ failure with vitamin C, but no improvement in septic shock. Both studies permitted delays in vitamin C administration that would never be tolerated for established sepsis treatments. It seems less and less likely that vitamin C can bring anything close to the dramatic mortality reduction reported in the original before/after clinical series. But the arguably late administration of vitamin C in both studies, combined with the discordant results on organ failure and the sizable mortality benefit observed in CITRIS-ALI, will keep alive the controversy about intravenous vitamin C's role in the treatment of sepsis. More trials are coming, the largest being VICTAS, originally planned for enrollment of 2,000 patients (but which may fall short of that number). Its primary outcome will be days free of vasopressors and ventilators, with mortality a secondary outcome. Source: JAMA